Shop - Ski rental - Repair
Welcome to Unlimited Sports! Your Sports Shop in Saint Gervais les Bains
Specialist of ski and mountaineering equipment rental
A friendly independent shop, bringing to you its expertise of the mountains.
Discover a whole range of products and services in our modern store, situated in the centre of Saint Gervais.
We provide a wide range of sports and leisure goods, ski and mountaineering equipment sales & rental, swimming equipment and also a repair shop.
We have the leading brands available for sale in our shop, including: Black Crows, Dynastar, Jott, Picture Organic Clothing.
Our ski equipment rental is carefully selected to meet all the practices and levels of our clients. It is carefully maintained in our integrated workshop.
To ensure that the ski or mountaineering equipment you require will be available, we recommend you book in advance…
Pierre-Yves Cointot
19/04/2023
Encore un immense merci à David qui saura vous trouver tout le matériel qu'il vous faut ! À l'écoute et de très bon conseils pour les activités à faire dans les Alpes, je recommande à 100% !
Jonathan Benoit
11/04/2023
Expérience agréable !
Had a great experience here! David was so helpful, knowledgeable, and funny!
David was incredibly helpful in sorting boots that fitted my oddly shaped feet. He spent a lot of time ensuring the fit was correct. Humorous service yet professional. Would definitely recommend!
Danielle Lange
07/03/2023
Highly recommend—if we could give more than 5 stars we would! David went above and beyond in thoughtfully personalizing our rental ski equipment to suit each individual's experience level, the terrain they wanted to ski, and the conditions on the mountain. He was very knowledgeable, meticulous, patient, and friendly. Reservation, pick up, and drop off were seamless and flexible. Prices were reasonable, service was incredible, and the equipment was high quality, well serviced, and in really fantastic shape. Thanks to David and Unlimited Sports for setting us up to have an amazing trip! We'll be back again next winter!
We always use Unlimited Sports St Gervais for all our ski & snow shoe hire. David is always helpful and very friendly. English spoken too which helps and parking right outside. Highly recommended.
Fantastic service! Well looked after and quality gear all at a reasonable price - couldn't fault the place 🙂
sebastien tabart
05/03/2023
Toujours très accueillant et très flexible. Cherche la satisfaction du client avant tout !
Researched and found this place. We were so glad we came here and very pleased with their service. We were a first-time skier and a second time skier. Staff in there were very knowledgable, had no issues changing over boots when we had some pain with ours, and worked with us to find a solution with no extra charge. Also, the fact that you can pay when you arrive after making a reservation is a real plus to spread the cost. Highly recommend.
Amazing service and experience. Even for a group of 11 person. Good prices and high level equipment (great skis and accesories). Really recommended compared to well known providers.

Ski rental from 59€ / week*
Rental for 6 days of skis – "blue" category (ex Dynastar CR70 picture above)
*Internet price including 25% discount. Discount depending on date. In store price : 79€



The different activities of Unlimited Sports Saint Gervais
Where to find Unlimited Sports in Saint Gervais Mont Blanc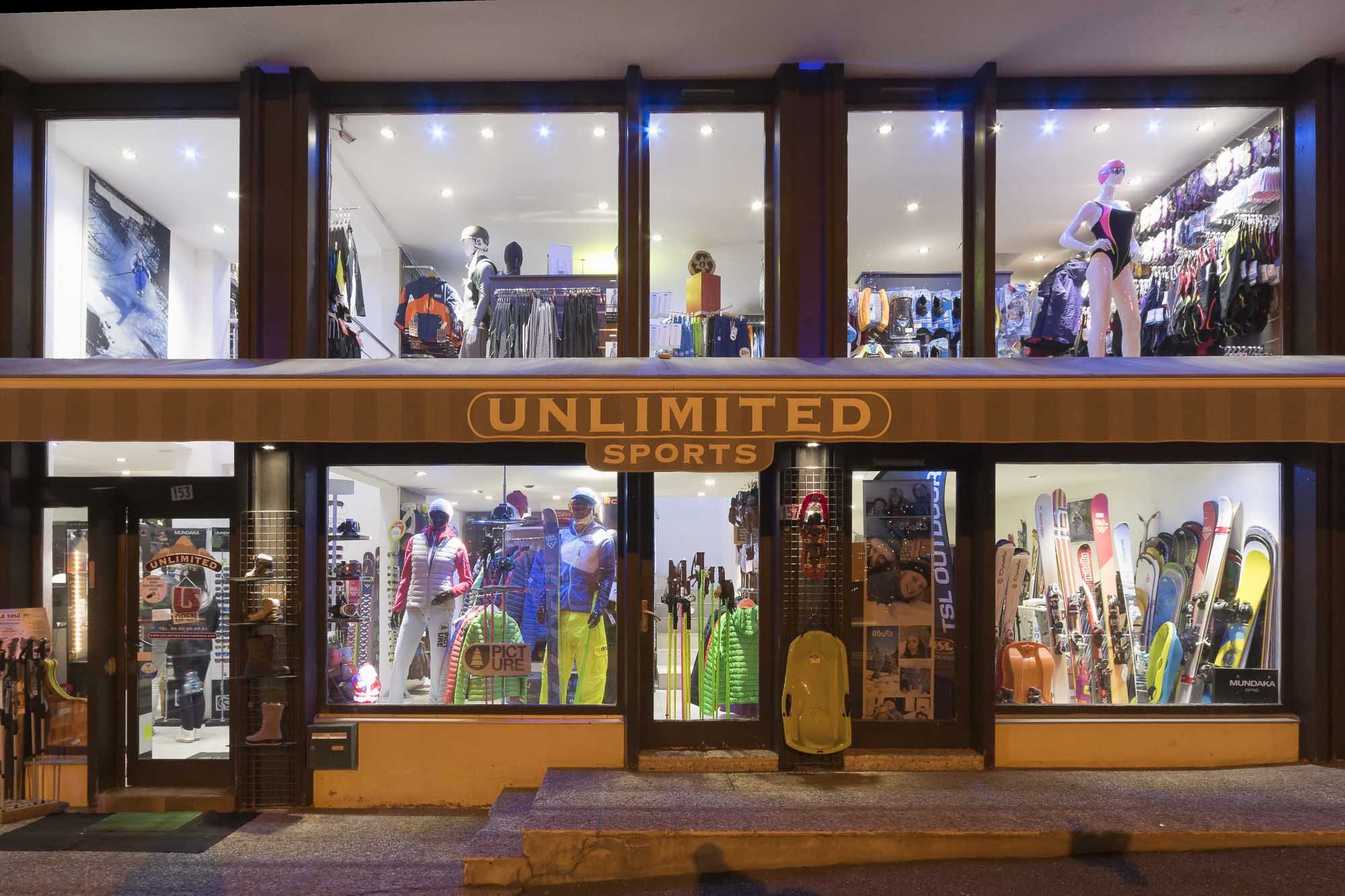 Practical informations
Address : 153 Avenue de Miage 74170 Saint Gervais les Bains
Tel : +33 (0)4 50 90 99 61
e-mail: info@unlimited-saintgervais.com
Access : At the edge of the centre of Saint Gervais in the direction of Les Contamines Montjoie
Unlimited Saint Gervais Mont Blanc
A question? More information? Don't hesitate...